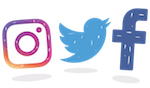 Follow PtownChamber on Instagram, Twitter and Facebook!
WHAT TO DO IN PROVINCETOWN
It's impossible to define what attracts people to Provincetown: for some it's our world-class beaches, for others, it's the art, for many it's the food and shopping. You can't miss the Pilgrim Monument which commemorates the Pilgrims First Landing in Provincetown (1620), but neither do you want to miss the night life, when Commercial Street becomes a cabaret for all. The attraction may be a quiet walk in Beech Forest, bird watching, painting, reading Mary Oliver's poems . . . there's something for everyone!
Rentals: bikes, kayaks, beach gear…
Come to our festivals… watch parades and fireworks…
Dates, dates, dates… Our comprehensive calendar has it all!
Visit Provincetown Library
You will be surprised – there is a boat inside!
Discover beauty of Seashore Park
Beaches, bike trails, and much more!
Tour town or dunes
Visit museum
Climb Pilgrim Monument
Visit Truro Winery
Have fun on a rainy day!
Provincetown For All Seasons
Go bird watching!
We're amazing place to watch birds!