Board of Directors:
Patrick Patrick, President
Michael Janoplis, Vice President
Rosa Buttrick, Treasurer
Susan Avellar, Secretary

Rosa Buttrick, Robert Costa, Jeffrey DeMoura, Michael Glasfeld
Vernon Porter, Elaine Quigley, Wil Rhymer, Jeff Rogers
Custodio Silva, Dale Szczech, Linda Vital
Hon. Edward M. Rudd

Radu Luca, Executive Director
Gail Vasques, Executive Assistant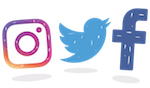 Follow PtownChamber on Instagram, Twitter and Facebook!
New members always welcome ~ We refer business to you!
---
All ADVERTISERS
We will be printing at least 70,000 copies of Guide to Provincetown. Every year we distribute and mail ALL of our guides throughout New England, Boston, Cape Cod, all over America and the world. We give it to thousands of people visiting the Chamber's Visitor Center, along with your brochures, rack cards, and flyers. Your AD in our guide is also seen by those who download the Guide from Chamber's website!
---
People love PtownChamber.com!
We hear so many nice comments about our site! We are doing very well with major search engines. Our advertising on Facebook brings lots of traffic to our site all year long. Please take a look at our website to make sure your listing is correct. If you would like to make changes to your listing, e-mail to [email protected], or if you are a subscriber to our web advertising program, you can do it by yourself on your profile page.
---
FACEBOOK is lots of fun and making new followers is very important to us. Provincetown Chamber facebook page has over 12,218 Total Likes and 12,644 Total Follows (as of 6/10/2019). We post Chamber member information and photographs of Provincetown street scenes, events, Harbor, beaches and more on a daily basis.
---

Constant Contact is the leader in Email and Social Media marketing for small businesses. We use Constant Contact for our online marketing and if you sign up through this link we can automatically give you up to 25% off of your account! Already paying for your account? No problem, just email your username to

[email protected]

.
---
E-HAPPENINGS
Our E Newsletter is published weekly in season and bi-weekly off-season. Listings include Member Businesses Happenings: sales, special offers, menu changes, information that you want other members and our visitors to know about your business. E Happenings are not intended as a continuous advertising venue.
---
CHAMBER VISITORS CENTER
Located at the foot of MacMillan Pier, between Ryder Street and Lopes Square, is open every day from 9am to 6pm all summer long, and open Monday, Tuesday, Friday and Saturday 11am – 3pm the rest of the year.
Our incredible staff greets many thousands of visitors referring business to YOU, our members. Your brochures/menus are there to entice them to visit your business. YES, we have last minute availability and your listings on our web site but we have REAL PEOPLE to send business to your accommodations via our daily CALL-IN vacancy service! They also suggest things to do, how to get here, refer to member restaurants and to other member businesses. What a deal!
---
CHAMBER AFTER HOURS AND ANNUAL DINNERS
Chamber After Hours and Annual Dinners are a great way to meet and greet fellow business owners and are always a lot of fun! Our two Annual Dinners are sell outs! We would love to have you be a part of it ALL!
---
WORKING TOGETHER
The Chamber works closely with the Town Tourism Office, PBG, CCCC, MOTT, CCRTA and many others. We support Provincetown events and local organizations, and attend conventions and trade shows.
---
JOIN OR RENEW NOW! IT IS EASY!
CURRENT MEMBERS:
Please confirm that all information is current on the renewal forms
that have been sent to you.

No Changes – Skip to Payment Options below.

Have changes or updates we ask that they be E-mailed to [email protected]
(to have your information exactly as you want it or to request another copy of your listing)
NEW MEMBERS:
Please fill in the entire Membership form and provide all information requested
especially a DESCRIPTION of your business.

Are you a First time member? Call for special discount rate for your first year.
---
ADVERTISING:
A number of advertising options are available to Chamber Members at a reasonable cost in the printed Chamber's Guide to Provincetown and on our website PtownChamber.com. Current print advertisers can see their 2019 Guide to Provincetown ad HERE.
---
WEBSITE ADVERTISING:
WEBSITE TILE AD
TILE AD SIZE: 250 x 250 pixels. Ad formats: jpg, gif, png. PRICE $300.00 for one ad placed on one page only. Extra $100 for second page and $50 for third page. You will choose web page to place your ad (or ads), but actual placing on page is determined by first come/first served basis. All tile ads are displayed in the right columns on our page design.
WEBSITE ADVERTISING PACKAGES THAT MEMBERS CAN DO THEMSELVES … ANYTIME!
When you sign up for one of these packages we provide you with a password.
You will be able to post availabilities, make changes to description, updates, etc.
ACCOMMODATION MEMBERS
3 ways to advertise at your fingertips! ​$200.00
Last Minute Availability – Post your availability.
Enhanced Listing – Add photographs to your listing, change description and update tags, update contact information, new e-mail, new website and so on.
Specials Page – List sales, Holiday offerings, special events!
GENERAL BUSINESS MEMBERS
2 ways to advertise at your fingertips! ​$100.00
Enhanced Listing – Add photographs to your listing, change description and update tags, update contact information, new e-mail, new website and so on.
Specials Page – List sales, Holiday offerings, special events!
---
PAYMENT OPTIONS:
Checks payable to: Provincetown Chamber, PO Box 1017 Provincetown, MA 02657
Pay By Credit card
Pay on line: https://ptownchamber.com/about/pay-online/
Pay by phone: Call the Chamber Business Office 508-487-0174
To be sure that your listing is included in the 2020 Guide to Provincetown please submit your payment & any changes by October 15th, 2019
Membership questions: [email protected]
Questions on advertising: [email protected]
Business Office: 508 487-0174
We reserve the right to edit all information.
Thank you for your support!